Who's waiting for Black Friday? Fewer people than last year. Holiday shopping is increasingly becoming an all-season affair, diluting the deal-busting power of Black Friday. This isn't necessarily bad news – as long as retailers recognize the advantages behind the trend. Here's what our 2019 Holiday How America Shops® research reveals.
This Holiday Season, Any Day is the New Black Friday
Shoppers are seizing control of the holiday retail schedule, taking special holiday shopping trips as early as October and opportunistically crossing items off their gift lists all year long. Efficiency is competing with price tags, and events like Amazon Prime Day, in July, are ensuring there's no turning back.
The result is shoppers are officially calling an end to Black Friday as the kickoff to the traditional gift-buying season.
Retailers, take note and schedule your "doorbuster" sales accordingly. The calendar is being pushed aside in favor of convenience when it comes to how people plan – or, don't plan – their holiday shopping. Let's explore where those shopper days are now landing on the calendar.
Our 2019 Holiday How America Shops® Research Reveals
More shoppers think they can get better holiday deals before Black Friday and even Cyber Monday, diminishing the event's importance and making it more of a tradition, especially among young shoppers.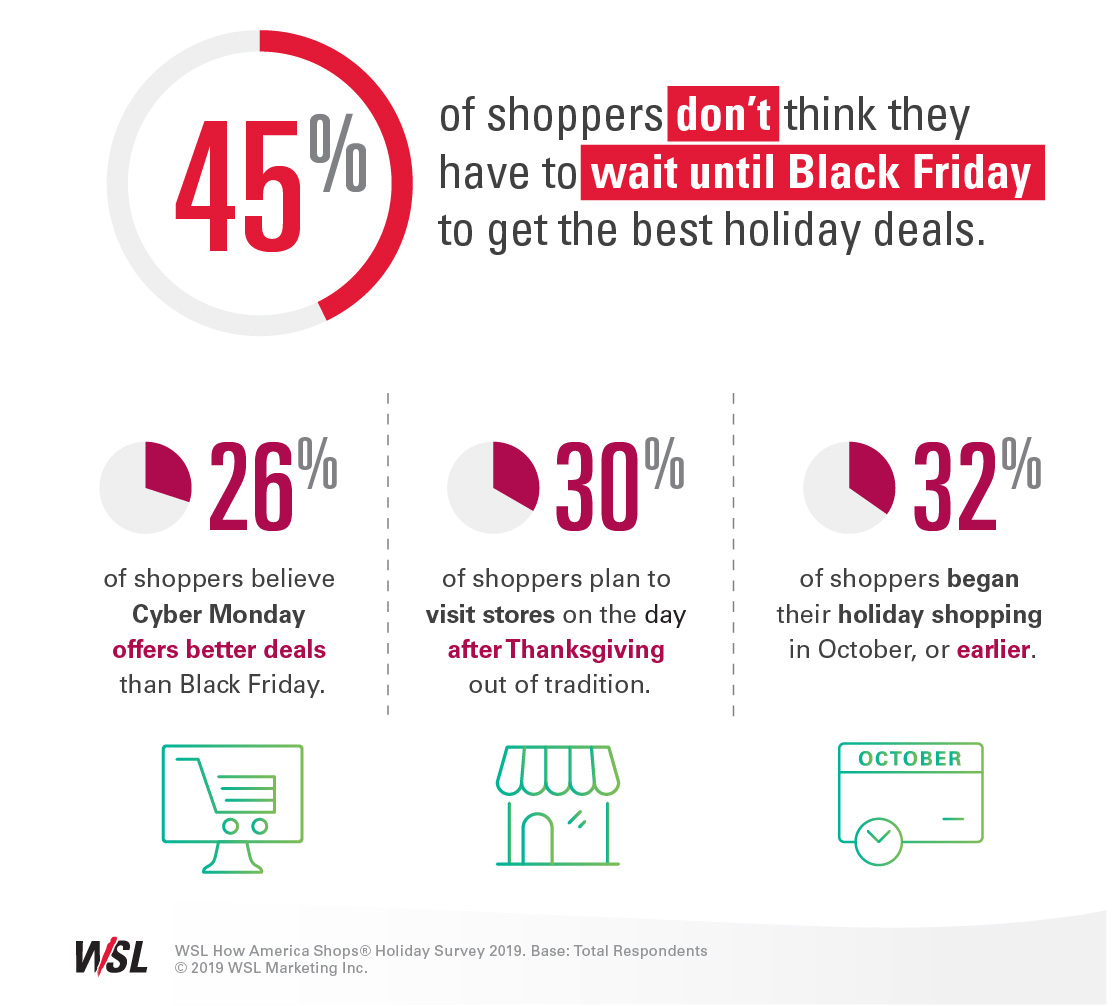 Black Friday maintains more significance among younger shoppers. Roughly 40% of Millennials call Black Friday a shopping tradition, yet 40% also agree it's less important to them. Just 21% of Boomers and 15% of seniors view Black Friday as a tradition.
More People are Gift Buying in October, and Earlier
We see this shift in Black Friday sentiment as a big opportunity to capture holiday shoppers all year round.
Take October. Shoppers were snatching up Kit Kats as well as kids' gifts, as retailers enticed Halloween crowds with festive trees and displays of holiday home décor and toys – all alongside Halloween costumes and candy.
But it's the younger shoppers driving that figure up: 40% of Millennials and 33% of Gen Xers start gift buying in October. These are similar percentages to those who shop on Black Friday, and we anticipate more of a shift from November to October in coming years.
Indeed, some shoppers start even sooner, or never stop.
Holiday Shopping is Becoming a Year-Round Affair
We've reported throughout the year about the phenomenon of spontaneous or "efficient" shopping when customers just pick up items when they see them, whether it's laundry detergent or nail polish.
This new way of shopping is extending to holiday gift buying, as well: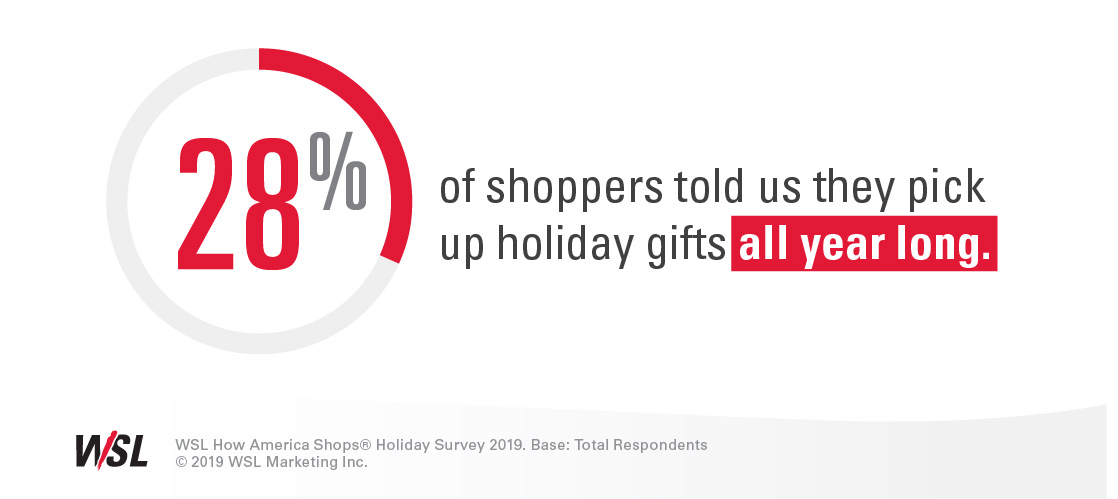 Younger shoppers are more likely to buy gifts sooner (34% Millennials and 31% GenXers).
Boomers and seniors are less likely to start early (20%).
All of this means that retailers aren't merely competing for holiday dollars on Black Friday, but on every day across the calendar. Amazon Prime Day is part of the proof, but it isn't the end point.
If retailers follow the shopper, and respond to their leads, any day could have the potential to be a gift buying sale day – even if it's in January, or July.