Gifting is how we show love, and many are feeling love and gratitude this year. So WSL expects shoppers will want to give and give this holiday season. Three findings from our new How America Shops® survey suggests retailers need a new approach to holiday marketing in 2020.
How Are You Preparing to Show the Love this Holiday?
This year the message to wrap around holiday gifting is clear: So many people are grateful to have made it this far into the pandemic untouched by the virus that shoppers will want to show how much they appreciate their friends, family, health, and relative wealth in special ways.
1: Good News: Shoppers Can Spend
Our How America Shops® research study, conducted in August 2020, indicates shoppers are feeling less financially stressed than they were in the first months of the pandemic. Their outlook is the same as November 2019, before COVID-19 surfaced. Bottom Line: WSL is not expecting a financial crisis in December to pull down holiday sales – unless COVID-19 takes a wicked turn.
While 59% of Boomers feel financially secure, just 36% of Millennials and 45% of Gen Zers do. So count on running sales to help Millennials and Gen Z shop.
Overall optimism is down to 23% from 37% in 2019 (likely due to a decline in new job opportunities and promotions), but the share of those who struggle financially is holding at 30%.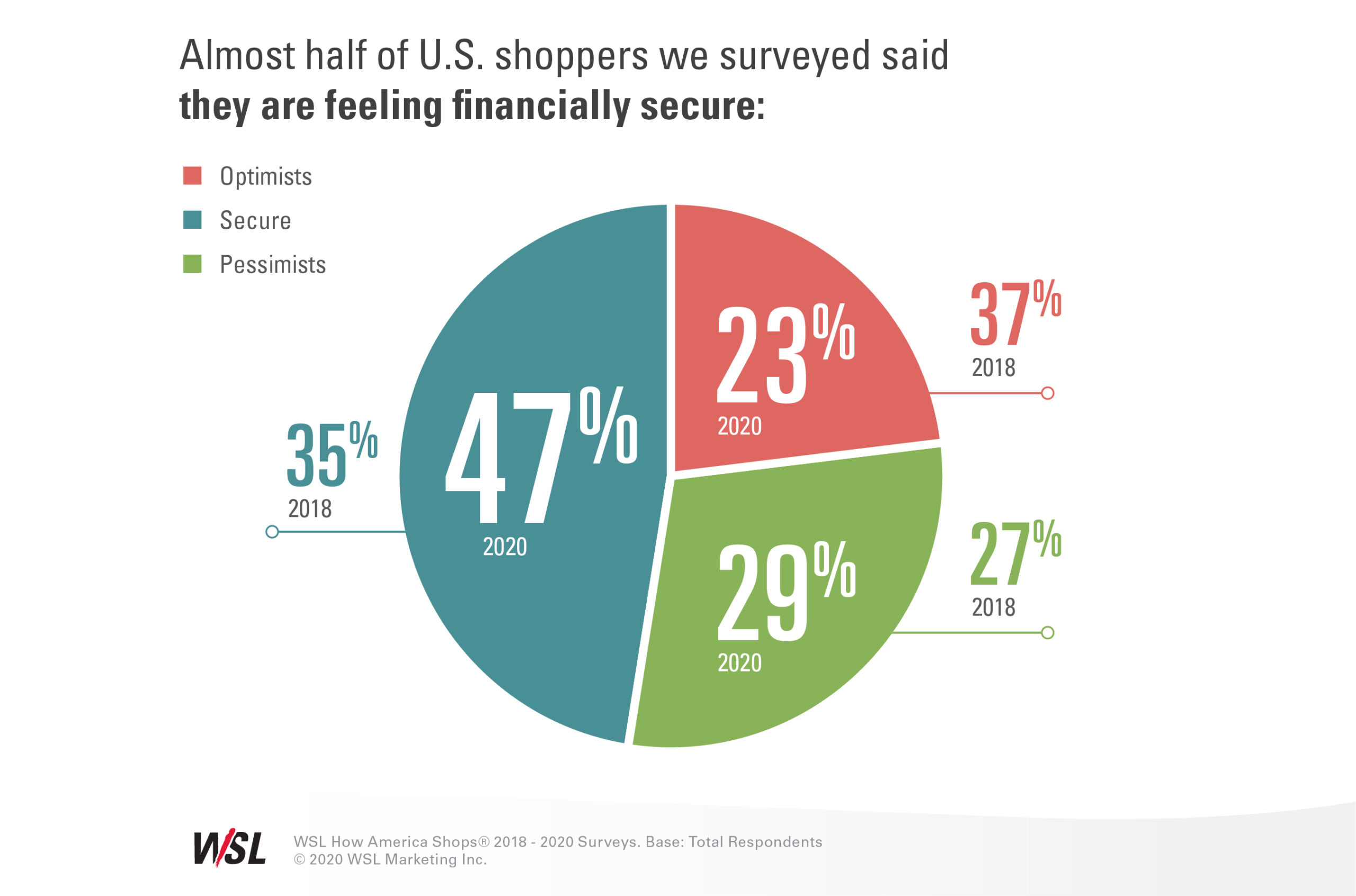 2: A Holiday in a Pandemic Will inspire Different Gifts
Experiential gifts are at risk – and that's an opportunity for retailers. Over the years there has been an uptick in shoppers giving gifts of experiences over "stuff" – movie tickets, a girls' day at the spa, or dinners out with friends, rather than clothing or jewelry. This year it's going to be harder to find shared events where shoppers will feel safe, which could benefit retailers. There is a good chance shoppers will revert to buying more personal gifts like clothing, accessories, and decorative items this season.
Also, expect to see more "crafty consumerism" in gifting. People with more time on their hands and months' of practice at new activities (think knitting), will spend their free time making personalized gifts. We predict an uptick in photo albums, handmade jewelry, needlepoint pillows, and hand-knit caps, which is a win for craft and photo retailers.
3: What is the Retailer's Role? Inspire Happiness.
Shoppers, and the retail associates who assist them, all share the same worries. Retailers could find ways to reassure them all – not just about safety, but with the promise that their trip to the store will be a festive experience. Foster a sense of high spirits among employees to inspire them to deliver better in-store service, create a sense of community, and show kindness.
Start now, as shoppers venture out for Halloween and back-to-school needs. Retailers should already be displaying unexpected and unique gift ideas and planting the seeds of expectation for a joyful holiday.
When very little else can be predicted, what we know for sure is that everyone is looking for a happy holiday.