We are very excited to announce that the Future Shop Podcast with WSL is officially live across the web! Learn more about it here:
What's the Future Shop Podcast with WSL all about?
Our podcast focuses on how shoppers are transforming retail and what you need to do about it.
Retail strategist and shopping futurist Wendy Liebmann shares her passionate, unvarnished shopper-centric view of where retail is headed. She interviews experts in retail, marketing, insights, design, education, and more. And she and the WSL team regularly share excerpts from WSL's latest proprietary shopper research about what's coming next.
The Future Shop Podcast is a no-holes barred view of what shoppers want, what you need to deliver, who's getting it right, and who's getting it wrong. And why. In this fast and furious view you will begin to understand how to anticipate the future that's emerging right under your nose.
WSL Strategic Retail is a leader in shopper insights and retail strategy. It helps clients around the world anticipate change in order to grow in the near and longer term. It is recognized for its ground-breaking How America Shops® and How the World Shops research.
Episode 01: It's Not About Amazon
In this episode, Wendy Liebmann, CEO & Chief Shopper, interviews Candace Corlett, president of WSL, about how companies have been pre-occupied with Amazon. They talk about how the shopper, not Amazon, has been disrupting the retail world. And that Amazon is merely the enabler of what shoppers want. They share highlights from WSL's latest How America Shops® research and tell you how to reframe your thinking.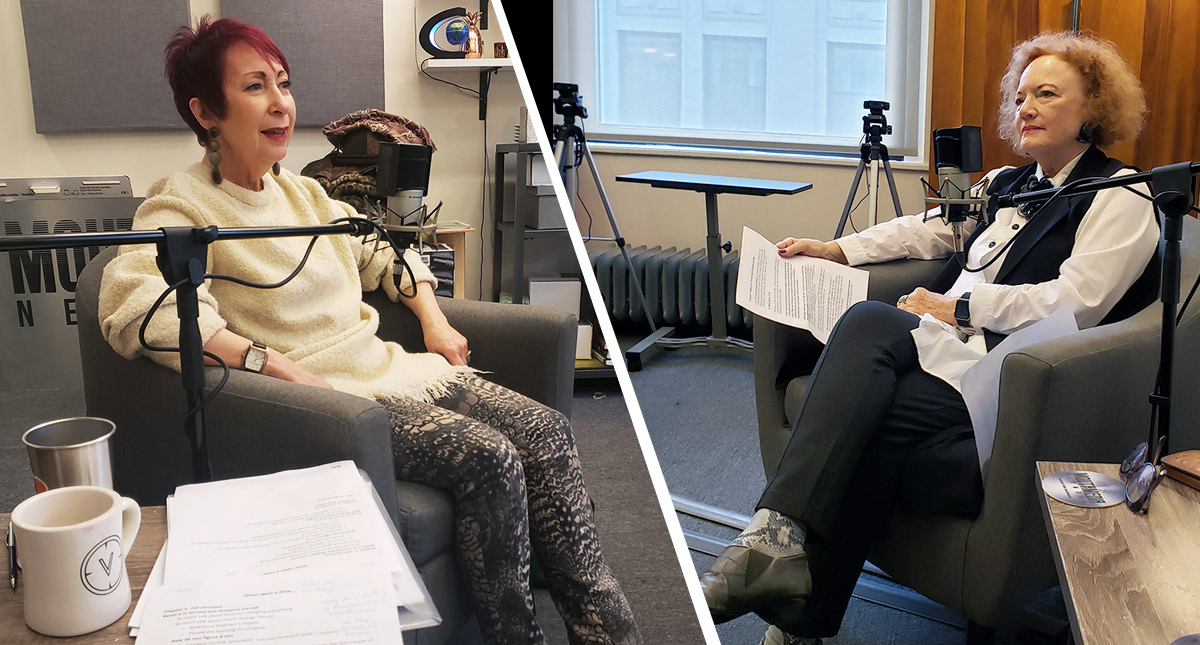 Don't miss upcoming episodes, stay up-to-date by visiting the WSL Shopper Insights Library, or our Podcast page.
Hello, I'm Wendy Liebmann, I'm the CEO of WSL Strategic Retail and I am here with my business partner and partner in crime, Candace Corlett, who heads up all our shopper research.
Hello Wendy, nice to be with you again today.
And you too, as always.
So, here's the thing, you know, most of who live in the retail and brand world have been spending an awful amount of time about retail being in turmoil. And it is in turmoil because of the likes of Amazon, really, Amazon has changed the world. And that's true. But, the fact of the matter is, it's a diversion. It's not the only thing that has changed the world. The real thing that has changed the world, is the shopper and the shopper's life. And one of the things that has been very clear to us over the last five or six years of studying shoppers across this country and around the world is that something much more fundamental has happened. Shoppers today are incredibly stressed, people are incredibly stressed. Life is incredibly hectic. What digital has done, Amazon aside, has just made life faster. So, everything we are beginning to see is really driven by that. So, what we're going to talk about today is just that and how you need to refocus your attention.
So, I am here with my business partner and partner in crime, Candace Corlett who spends all her time studying how America shops. A little bit about me, I have been passionate about retail and shopping for about thirty years growing up in the bush in Australia. Yes, there was retail in the bush in Australia. My background is a mix of marketing and research and retail and all of that comes together in this absolute passion I have for understanding where retail is headed whether it's physical or digital or what our clients around the world need to do in order to engage with shoppers. The passion I have is how do you stay engaged with your shoppers all day every day. How do you understand their lives and how that impacts what they want to buy and how they want to spend and if you stay close to shoppers, you will be able to see the future and you'll be able to grow and build extraordinary businesses. But, you've got to stay close to them. And that's what we do at WSL.
My name is Wendy Liebmann, my title is CEO and Chief Shopper and that's exactly why.
Candace, you know, there are two or three things here that really, if we could shake our clients and some friends of the family we would shake and say, "It's not about Amazon, stupid, it's about the shopper's life", right?
It is about the shopper's life and all of our listeners out there, are shoppers who are out there living life and they will see themselves in the profile that we see in our How America Shops studies. People have become frenetically busy. There are many more social network commitments to meet, many more activities, the workday has expanded from 9-5, kids have more activities, there's always another thing on Pinterest to be trying to execute, we have made our lives extremely frenetic. The result has been like you said, stress, the number one obstacle to being a healthy person is stress. It is not surprising that people have now said, 60% have now said, "to make my life less stressful, I have to shop faster." And that's what our clients have to think about. I have to shop faster because I want to be healthier because I have so many other things I have to be doing. So, how are you going to help me do that?
It's interesting you say that, three or four years ago, our study we called buying happiness, and it was this point in which we saw very clearly, American shoppers had a completely different set of values. It was about being more financially responsible, it was about taking the stress out of their lives and having this greater sense of well being. That imperative, some of our clients think, woah, they've been talking about this for a long number of years but it has changed everything. And this notion about fast and easy is driving all of the future of retail. And yet, so many companies are not even paying attention to it. 
That's right, they are still thinking, efficient shopping means having a list and going once a week and filling that list but that's not the way that happens. There's a whole new definition of efficiency that may not seem efficient to use on the surface but, it is working for shoppers. And it means I grab everything I need, wherever I see it. So, if I see great food for dinner at the front of the drug store, I'm going to take it. I can get all of my cleaning and home things at the home depot when I go in to buy a light fixture on Saturday, I grab it wherever I see it. That's one new efficiency. I don't necessarily take a quick trip back to the store if I forget something. Most things can wait until six hours from now or until tomorrow. And people are always counting the minutes.
You know, it is interesting you say that because I remember some work we did a few years ago for a retailer and we came up with the term "Always Already".  And it was this notion, they couldn't believe, they were so focused on well yes we know people are so busy and they are busy families so we're going to give them everything under one roof and save them a trip, right? And what we saw really quickly and they were kind of confused by was the fact that actually, people would stop and make more trips wherever they happen to be, pick up whatever they happen to need because they were there. Always all ready and willing to buy.
And they're not counting it as a trip. That's an old word. It's not a trip, it's a grab and go.
Right, we talked about that. We live in a grab and go world. So, if I'm a company and i'm sitting there saying I created this fabulous product or this fabulous retail experience, if you're not addressing this urgency to save time, and take stress out of the moment then the shoppers not even considering you at this point. It seems there's this massive imperative to change, you had mentioned 60% of people saying I'm trying to get everything and my shopping done fast so I have time for other things. And this notion of buying things wherever I am, that puts retail on its head, right? Wherever I am could be on the ether or it could be on a street corner, it could be in a car wash to pick up a lip balm or greeting cards. It could be anywhere, so that landscape is so diverse. It's so accessible that most of these big companies are not thinking this way. They're still thinking about food, drug, mass, dollar, department store. They don't understand that shoppers are willing to buy things wherever they happen to be to get it off their list right now. 
That's right. And we do see some shining stars emerging in retail. Where large retailers are stepping back and saying "wait, I've lost entire categories to the grab and go mindset, people are picking it up anywhere even though I promise everyday low prices. Walmart is a good example of a retailer that is experimenting with services that are extremely contrary to retail. I'm going to set up an efficient shopping service where you never even have to come into the store. And they're advertising their buy it online and come to the store parking lot to pick it up and they're promoting that. It's contrary to what you would think of as core retail.
It's interesting you say that because retail used to be all about location, location, location. And the fact of the matter is that most companies that are listening to this have to think about is well, maybe a retailer used to grow because you have 8,000 stores but the fact of the matter is, that's going to go away and really fast. Retailers are already starting to add services in their stores that used to be an aisle. They're trying to differentiate by bringing in small, exclusive brands into their space to give people a reason to come into their store. But, that retail structure that most of us have grown up with of stores on every corner, they're all going to disappear, really, really fast. Now, I'm not talking about in five minutes, but we already see the stores closing. The drama and urgency of that is really critical for people to understand. That isn't five years from now, that's more like five months from now. 
Oh, we're seeing that in test stores and being rolled out to thousands of stores already. I'm not getting the shopper in the store to get them to walk to the back of the store to find the baby diapers, maybe I'll get them in after they pick up their groceries if they want an eye exam or they have to get their children's exams to play sports. I'm going to offer the types of services that people need quickly.
So, one of the ways to look at this, for anybody listening, is to be some of the retail that we think is already getting this. From the new Aldi formats to Wegman's and their latest supermarket format from Walmart with their new health centers from CVS with their health hubs all of those things that the retailers are experimenting with. If you want to see more of that you can come to our website where you'll be exposed to what all of those places look like? I've just rattled off five but there are probably another fifteen or twenty retailers we can think about changing these things, in some cases, while people sleep. There is an urgency of that, so, if we think about what should the listeners, clients and friends of family do about this? It seems to be the imperative in everything they do from product development to packaging to advertising to communication, social, digital, everything! They have to begin with fast, they have to imagine how they can make the shopper's life easier. Get it off your list so they have time for other things, which could include, browsing, but that's not the first thing, right? 
Right, they're not browsing for the commodity essentials. Our manufacturers are included in this as well like we said earlier in our chat here, don't count on the big displays being where people will discover you. How will you be front and center online before they even get to the store? Or, ordering it to the store and going to the store to pick it up. Where are you going to intercept them, where are you going to gain recognition? 
So here's the thing then, right? We've talked about this imperative of making shopping easier and less stressful to save time for other things they want to do in their lives. What we know from the examples we've eluded to and many more, companies that are doing things to address this are all retailers! Retailers are getting this, yet, for all of you manufacturers out there, you are all still doing things the same way you have always done them. And that's no longer acceptable. So, the imperative here is that what you really need to be doing is bringing all of the constituent partners into the room and you need to be talking about how you can deliver on products that are faster, less stressful, easier for shoppers to use, easier for shoppers to buy and seen in a way that is a very good value. If you bring your R&D people, your packaging people, your merchandising people, your display people, your shopper marketing people into a room, and look at what you're doing through that lens, then you will be able to tackle this huge shift that Candace was talking about in terms of the way people live their lives. If you don't do that, then the opportunity is really not yours anymore. That's where success will come. That's what the imperative is, it's fast and it's about value and it's about taking the stress out of shoppers' lives. That's what you need to be thinking about today and tomorrow. There is so much more on this topic that you can easily access from us, you can go onto our website at www.wslstrategicretail.com, there you can access free trend alerts on this topic and others. If you're a client of ours you can access the Shopper Insights Library there are full complete reports on this topic of fast. And if you ever want to browse through our website you will learn all you need to know about us and about retail and about shoppers. Go ahead and look and if you need any more in-depth information, don't hesitate to give us a call at 212-924-7780 or email us at [email protected], or, just raise a flag, we'll find you.
So, Candace, thank you for sharing as always.
Oh, you're welcome.
Always sharing your shopper thoughts. It's an urgent and exciting time and I think you've really set the stage for that. Next time around, we'll be talking about another very hot topic that you all need to think about so thanks for listening and see you next time.