Online grocery sales soared by 54% in 2020, creating logistical challenges, but also unintended consequences for brands. As we learn here, buying CPG online raises a loyalty concern for brands. Shoppers surveyed for WSL's How America Shops® research said they are far more likely to switch brands online than in-store. We delve into the research the find out why, and offer three pieces of guidance.
Brands Can Lose One-Fourth of Shoppers Online. Why?
One shopper may act like she has two heads when it comes to her in-store and online shopping, and it may have much to do with new shopping habits versus old ones.
Still, the behavior is concerning: 25% of online shoppers across 41 categories told us they change their minds on the brands they had previously decided to buy, versus just 8% of in-store shoppers, according to WSL just-released How America Shops® report, "Shoppers Reveal Many Paths to Purchase."
This indicates retailers are nailing the online experience and gaining traffic through easier exploration, price comparisons and website programming. But it underscores the vulnerability brands face in an online marketplace.
Brand Risk Rises and Falls with Categories
To align the "where" with the "whys," we delved deeper into the categories to see where brand switching is more likely to occur. Following are the switch rates in key categories: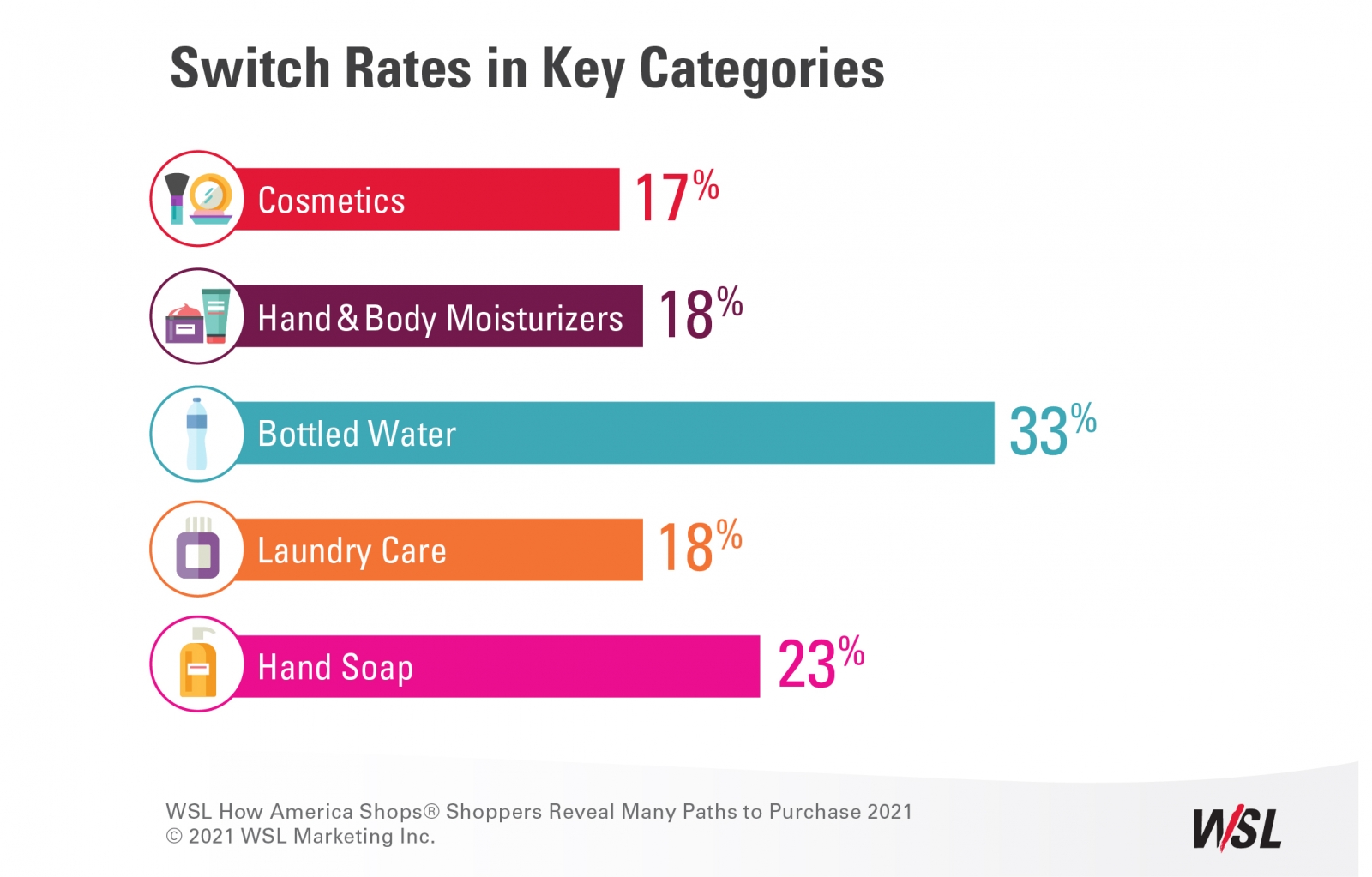 3 Ways Brands Can Get on Lists
This higher propensity for brand-switching online needs to be addressed. And this will take creativity because this is a new world for shopper marketing and the stakes are now higher, as are the challenges.
What to do? Here's WSL's point of view:
Challenge #1: Become a designated brand. Only one-third of shoppers plan to buy a specific brand before their shopping trip. Most are in fact open to switching between two or three name brands or between a name brand and a retailer's private label. This is particularly true among Millennials and Gen Z shoppers.
Challenge #2: Improve the pecking order on the page. Brands can creatively get at "eye-level" on the digital shelf in a number of ways. They can link their digital advertising, including on social media, directly to a retail shopping cart. They could ensure their product images translate well to the digital shelf and are readable across all digital devices – this includes nutritional information. And they should consistently check category placement, pricing, and competitor activity.
Challenge #3: Tap into pre-shopping. Overall, 60% of online shoppers search for products before they make a purchase. Brands can analyze browser data, perhaps collaboratively with their retail partners, to determine what these search patterns look like and put themselves where customers are searching.
True, a shopper may appear to have two minds when it comes to online or in-store purchase decisions, but brands have the means to get into both of those heads. Retailer collaboration is key, but knowing the shopper's state of mind is, as well.

If you'd like to know more about brand switching online in your category or the details on how to reach them during the pre-shop, you can access WSL's How America Shops® Shoppers Reveal Many Paths to Purchase," here.