Can we talk about voice technology in retail? If retailers are investing in VA technology, they need to be doing so in areas beyond saving time and easy refills. These qualities are building blocks, but growth follows sales, and sales follow browsing. And that browsing must be displayed as well as heard, hands-free. Based on our How America Shops® research, this is where the future of VA lives.
Voice Technology in Retail
Nearly 40% of people own voice-activated devices, but getting customers to actually "shop" on them – not replenish – requires overcoming a big obstacle: How to use VA for browsing. Based on our How America Shops® research, this is where the future of VA lives.
If there is one message voice-activated technology is making clear for retailers and the brands they carry, it's this:
The future of voice technology in retail still belongs to the screen.
It does if they want to pursue hands-free browsing, at least. The companies that will decide the future of voice-activated (VA) technology and its role in shopping are those that can figure out ways for shoppers to buy shoes while simultaneously using both hands to cook or do whatever else they need. Further, the onus is on them to make their messages visually compatible with VA screens just as they did with mobile.
Based on results of our How America Shops® The Future of Shopping Life: Trending the Metrics that Matter report, screens play a leading role in that future, at least near-term. Among our findings: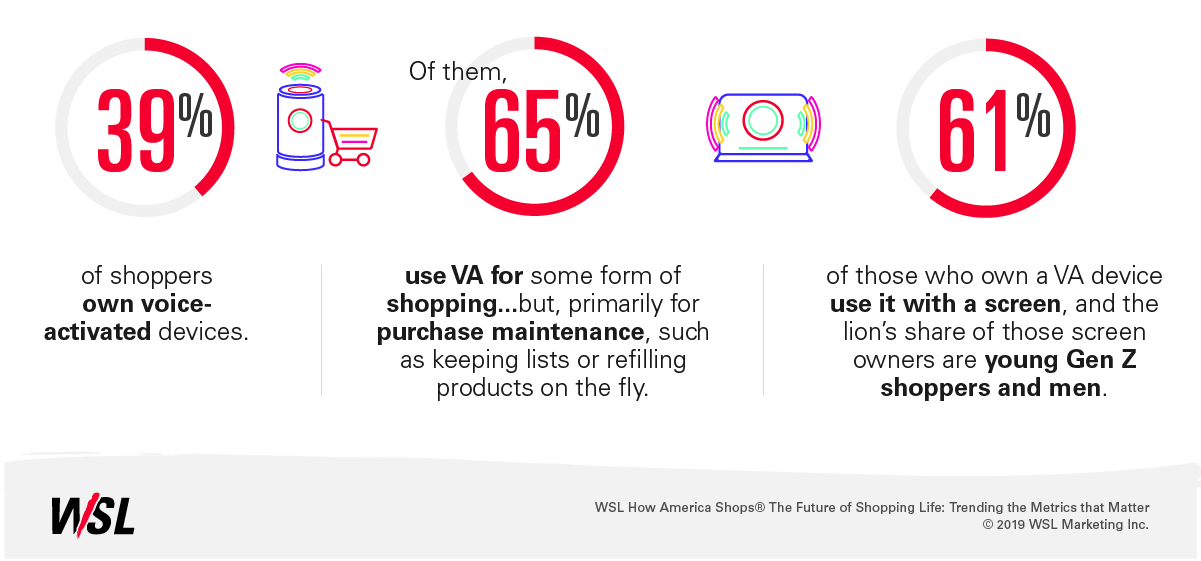 Gen Z Aren't Shopping on Voice Activated Devices
It is no surprise to us, then, that more men than women order groceries and other products via their VA devices. Here's where a screen helps.
Gen Z shoppers (ages 16 to 22 in our surveys) are a different matter, however. While 58% of adult Gen Z own VA devices, they lag behind other shoppers in nearly all key VA-purchase activities but one: finding deals.
More than a quarter of Gen Z shoppers, (27%) use their VA devices to find deals of the day. This compares with 19% of the total population, 25% of Millennials and 13% of Gen Xers. The difference may be due to how many more of them own VAs with screens.
Winning Gen Z's voice – and loyalty – therefore means transforming those deal searches into happy purchases.
Three Strategies to Turn Deal Searches into Purchases
1. Link to voice-activated apps.
Some tech companies, such as Headspace, offer voice-enabled shopping apps that interact with screens. The Alpine.ai app, for example, imports product catalogs and layers them with artificial intelligence to answer shopper voice queries, ideally turning those questions into purchases.
2. Let the experts do the screening.
Target and Walmart partner with Google Express to manage their voice-activated shopping aspirations, so they can ideally focus on merchandising. Walmart Voice Order, for example, enables shoppers to build grocery lists and place orders over time on Google Home, smartphones, smart watches and other screens/devices.
3. Be a trusted consultant.
Shopper want to trust their sellers before crossing that bridge into VA purchasing. Niche brands that require a high level of trust, such as wellness, beauty and fashion, can use VA screens to showcase products, play video demonstrations and reveal product recommendations (with no hands).
Getting customers to actually "shop" – not simply replenish – through VA devices requires overcoming one big obstacle: Learning how to use VA for browsing. It's time to stop talking about it, and putting it to the test.